NEWS
Oprah Winfrey's Ready for Her Network's Big Debut on New Year's Day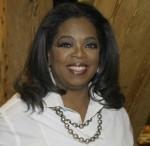 And 5-4-3-2...1! Looking forward to counting down to the new year? Oprah Winfrey fans are counting down to midnight for another reason. Tomorrow marks the big debut of OWN, the Oprah Winfrey Network. At noon on New Year's Day the billionaire media mogul will kick off her network by airing a special episode, "Oprah's Guide to OWN" in order to capture her mission to entertain, inform and inspire people.
Article continues below advertisement
OK! NEWS: JENNIFER HUDSON SINGS TO OPRAH AT KENNEDY CENTER HONORS
According to Entertainment Weekly, the first day of programming will include several sneak peeks of what's to come, along with Oprah's talk show in the evening. Since OWN will be accessible by 85 million homes across the country, viewers will have access to check out new series such as Kidnapped by the Kids and Midnight Detectives. In fact, 22 original series have been announced but the channel will toss up programming with a mix of talk, documentaries, specials, original documentaries and acquired movies. Rosie O'Donnell, Shania Twain, Sarah Ferguson, Carson Kressly, Naomi and Wynonna Judd and Gayle King will all have their own shows during the first season.