NEWS
Orianthi Pampers Her Pups With Hot Meals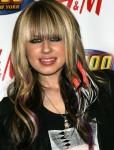 According To You singer Orianthi's two pups Palmer and Harriet are living large.
The guitarist, 25, who found fame in Michael Jackson's This Is It, wears her chef hat every day to develop dishes for her pomeranian and bichon, who have been in her life for three years.
"I actually cook them their food," the Australian sensation tells me. "They have everything pretty much cooked from scratch. I cook them their chicken, their vegetables, I don't buy them canned food."
Article continues below advertisement
That's not all.
"I buy them every treat under the sun. I call them my furry daughters. I spoil them. I love them dearly. They're little brats a lot of the time, but I love them."
She adds, "My life revolves around them. I'm trying to entertain them. They like to play ball and run around the apartment. They're pretty crazy, but I'm cleaning up after them. They're pretty much like five-year-olds. I love them dearly."
MORE ON:
Red Carpet Confidential
For Orianthi, who is single, pampering the pups makes for great preparation for motherhood.
"You learn to become not completely selfless, but with them, I'm always looking out for them, like if I have to head out of town, I have to bring someone in here to take care of them, making sure good people are taking care of them, because I'm a bit paranoid about that. Also making sure if anything falls on the ground, that they don't chew it, because they'll eat anything. Just little things. I'm always looking out for them."
Article continues below advertisement
One incident that occurred recently took hindsight to appreciate its hilarity.
"I woke up in the middle of the night because my dog started barking, and I was very annoyed," she says. "I got up, and I went out, and I stepped in dog poo, and I washed my foot and then I came back. laughs It was pretty funny. I can laugh about it now, but at the time when you're half-asleep, you get up, going 'Palmer, please me quiet,' and you step in poop. I had to put the shower on, wash my foot and then it's a whole ordeal."
Why not add a furry friend to your home? Visit your local animal shelter to find your new BFF/s. And, pick up the OK! on newsstands now to learn more about Orianthi. The cover line is "Jennifer Aniston: How She Lost 7 Lbs. in 7 Days."