NEWS
Oscar De La Hoya Admits to Cheating On Wife, But Says 'Not Like Tiger Woods'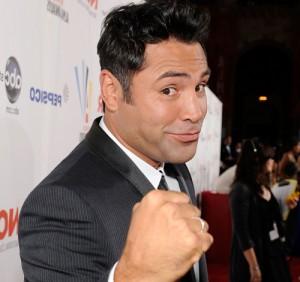 Oscar De La Hoya has a lot of skeletons in his closet. The world champion boxer admitted to past indiscretions, drug addiction and contemplating suicide in a tell-all interview with Univision.
"We are obviously not talking a Tiger Woods here, but I was unfaithful," the boxing legend confessed to Univision, via Radar Online, about cheating on his wife of 10 years, singer Millie Corretjer, with whom he has two children.
Article continues below advertisement
The Olympic gold medalist revealed he also battled with drug addiction and he contemplated taking his own life not to long ago.
"Rock bottom was recently," he explained. "Within a couple of years, I was just thinking if my life was even worth it. I don't have the strength, I don't have the courage to take my own life but I was thinking about it."
He added: "There were drugs, my drug of choice was cocaine and alcohol. Cocaine was recent. The last two years and I depended more on the alcohol than the cocaine. It took me to a place where I felt safe, it took me to a place where I felt as if nobody can say anything to me, it took me to a place where I just can reach out and grab my mom."
The champion fighter reportedly checked into the Betty Ford clinic in May 2011 to seek treatment for his addictions.