NEWS
Oscar De La Hoya Admits to Dressing in Drag: "I'm Tired of Lying"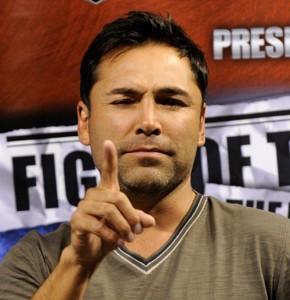 Oscar De La Hoya has been confessing quite a lot recently. After opening up about his infidelity and battle with drug addiction, now the world champion boxer has revealed that 2007 pictures of what looked to be himself in drag are, in fact, real! In 2007, when images of the boxing legend in fishnets and high heels surfaced, Oscar denied the validity of the photos at the time, saying they were altered and it was a "bad photoshop job."
Article continues below advertisement
But now, he has confessed that they were him.
"Let me tell you, yes, yes, it was me in those pictures," he said on news show Here and Now, via Radar Online. "I am tired now of lying, of lying to the public and of lying to myself."
Oscar also revealed this week in a tell-all interview with Univision that he was unfaithful, battled drug addiction and contemplated suicide.
"We are obviously not talking a Tiger Woods here, but I was unfaithful," the boxing legend confessed to Univision, via Radar Online, about cheating on his wife of 10 years, singer Millie Corretjer, with whom he has two children.
The Olympic gold medalist revealed he also battled with drug addiction and he contemplated taking his own life not too long ago.
"Rock bottom was recently," he explained. "Within a couple of years, I was just wondering if my life was even worth it. I don't have the strength, I don't have the courage to take my own life, but I was thinking about it."
The champion fighter reportedly checked into the Betty Ford clinic in May 2011 to seek treatment for his addictions.
See the photo of Oscar in drag at Radar Online.