NEWS
Oscar De La Hoya Tweets That He Is "Free" & Can Live An "Honest Life" After Confessions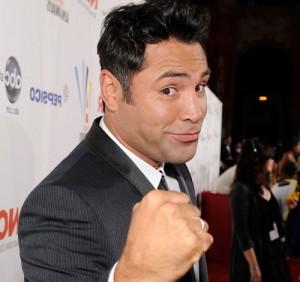 After a week of many revelations and confessions, boxing legend Oscar De La Hoya feels relieved. From cheating on his wife to dressing in drag to his battles with drug addiction, Oscar got a lot off his chest in recent interviews and turned to his Twitter to share how good it feels to be "free."
"Being honest with my self has set me free.i no longer have to feel sorry for myself.i no longer have to lie.i can live an honest life...." Oscar Tweeted today. He added, "And now it's time to make amends with the people who really love me and care for me.it's never to late we can do it.god bless."
Article continues below advertisement
Oscar gave a number of tell-all interviews this week, first to Spanish network Univision, where he confessed to cheating on his wife and battling drug addiction, revealing he recently hit "rock bottom."
"We are obviously not talking a Tiger Woods here, but I was unfaithful," the boxing legend confessed to Univision, via Radar Online, about cheating on his wife of 10 years, singer Millie Corretjer, with whom he has two children.
On his battle with drug addiction, Oscar explained: "Within a couple of years, I was just wondering if my life was even worth it. I don't have the strength, I don't have the courage to take my own life, but I was thinking about it."
He also admitted that photographs that surfaced in 2007 that looked like the boxer dressed in drag — wearing fishnets and heels — were actually of him.
Oscar denied the validity of the photos at the time, saying they were altered in a "bad Photoshop job."