NEWS
Oscar-Nominated Actor Pete Postlethwaite Dead at 64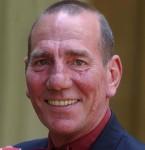 British actor Pete Postlethwaite who was most recently seen in Inception and The Town, passed away peacefully in central England. Pete was being treated for cancer and succombed after a lengthy battle. He was 64.
OK! NEWS: THE PHILMGUY'S DVD REVIEW OF INCEPTION AND SHREK
The Oscar-nominated thespian has starred in Alien 3, The Usual Suspects, Amistad, The Lost World: Jurassic Park, as well as countless movies dating back to 1975, was nominated for an Academy Award for The Name of The Father in 1993.
Article continues below advertisement
Steven Spielberg, the director for Amistad and Jurassic Park called Pete "the best actor in the world." To which point, Pete responded, "I'm sure what Spielberg actually said was, 'The thing about Pete is that he thinks he's actually the best actor in the world.' "
By Vicki Salemi