NEWS
The PhilmGuy's DVD Review: 'Inception'; 'Shrek'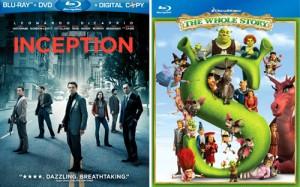 Inception – Just about every film by director Christopher Nolan (Memento, The Dark Knight) is an unqualified masterpiece, and Inception is no different – one of the leading contenders for the Best Picture Oscar.
THE PHILMGUY'S DVD REVIEW: ECLIPSE; GOING THE DISTANCE
Leonardo DiCaprio stars in this relentless head-trip as an agent who invades peoples' dreams to extract information from their subconscious. He takes a trainee (Ellen Page) under his wing as he tries to pull off his most masterful coup – attempting to implant an idea in a business executive's mind. The dream-within-a-dream format of the film makes for a trippy, invigorating viewing experience, and after you watch it you can spend hours online reading about the myriad theories explaining the plot.
Article continues below advertisement
THE PHILMGUY REVIEWS: BLACK SWAN
The Blu-ray/DVD/digital copy combo pack includes 44 minutes of featurettes, an exploration of dreams hosted by supporting actor Joseph Gordon-Levitt and audio-only tracks of Hans Zimmer's stirring score. There's also a smart phone snap tag that will reveal a bonus Nolan interview. Fittingly, one of the best movies of the year gets one of the best Blu-ray releases.
MORE ON:
Leonardo DiCaprio
Shrek: The Whole Story Blu-ray – The disarming fourth chapter of the Shrek saga – Shrek Forever After – is available either alone or as part of this four-film set that's a smoking deal of $45. In the finale, Shrek gets fed up with domestic life and longs for a return to his wild ogre ways – a wish the conniving Rumpelstiltskin grants, rising to the throne to rule with an iron fist.
Shrek fights to win back the hearts of his sidekicks and Fiona, who no longer know him, overthrowing the tyrant while coming to terms with that which matters most to him. The Blu-ray set lacks DVD and digital copies but includes tons of well-executed extras for each film, as well as the Donkey holiday special.