NEWS
Oscar Nominations Announced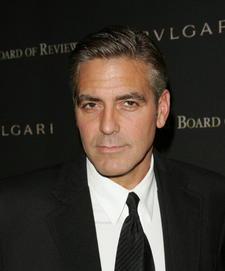 There Will Be Blood spilt at the Oscars this year and it may be at the hands of No Country for Old Men.
The two dramas lead the pack with eight nominations each as the field for the 80th Annual Academy Awards was announced (watch video ).
Competing alongside the two flicks are love epic and Globe winner Atonement, quirky indie Juno and the George Clooney-led Michael Clayton, which received seven nods.
Article continues below advertisement
Good ol' George, who was a triple nominee (and one-time winner) two years ago, earned his fourth nomination in the Best Actor category, but he may have to play second banana to front-runner Daniel Day-Lewis in There Will Be Blood. Also in the running are first-time Globe winner Johnny Depp for his bloodthirsty role in Sweeney Todd — picking up his career third nomination — first-time nominee Viggo Mortensen for Eastern Promises and Tommy Lee Jones, a surprise nominee for In the Valley of Elah.
Already an Oscar winner for The Fugitive, Tommy also earned raves for his turn in No Country for Old Men, but missed out on double nominations as he was trumped in the supporting actor race by The Assassination of Jesse James' Casey Affleck (whose big bro Ben won an Oscar 10 years ago), critical favorite and No Country's Javier Bardem, Philip Seymour Hoffman for Charlie Wilson's War, Tom Wilkinson for Michael Clayton and Into the Wild's Hal Holbrook, who picked up his film's biggest nomination.
Article continues below advertisement
Meanwhile, expectant mom Cate Blanchett could double her pleasure, receiving two nods for Best Actress (Elizabeth: The Golden Age) and Best Supporting Actress (I'm Not There), which makes her the seventh actress to score two nominations in one year. Her best chance for a win is in the latter, in which she gives a riveting portrayal of Bob Dylan. Against her are American Gangster's Ruby Dee, Gone Baby Gone's Amy Ryan, Michael Clayton's Tilda Swinton and 13-year-old Saoirse Ronan for Atonement, making it two consecutive years with a young nominee (Little Miss Sunshine's Abigail Breslin represented last year).
Nominated with Cate for Best Actress are favorite Julie Christie from Away From Her, French star Marion Cotillard for La Vie en Rose, Ellen Page for Juno and Laura Linney for The Savages, another shocker.
Laura's nomination came at the expense of Angelina Jolie, who was perceived to snag a nod for A Mighty Heart. Other big snubs include Atonement, coming up on the short end of the stick sans nods for Keira Knightley, James McAvoy and director Joe Wright, and Sean Penn's Into the Wild, which was left out in the cold in the picture, director, actor and supporting actress categories.
Article continues below advertisement
Despite the writers' strike, which forced a scaled-down Golden Globes, Oscar producers hope to carry on with the award ceremony as planned. Jon Stewart will return to host for the second time when the show airs Sunday, Feb. 24.
The major nominees are below. See the full list .
Best Picture
Atonement
Juno
Michael Clayton
No Country for Old Men
There Will Be Blood
Best Director
The Diving Bell and the Butterfly, Julian Schnabel
Juno, Jason Reitman
Michael Clayton, Tony Gilroy
No Country for Old Men, Joel Coen and Ethan Coen
There Will Be Blood, Paul Thomas Anderson
Best Actor
George Clooney, Michael Clayton
Daniel Day-Lewis, There Will Be Blood
Johnny Depp, Sweeney Todd: The Demon Barber of Fleet Street
Tommy Lee Jones, In the Valley of Elah
Viggo Mortensen, Eastern Promises
Best Actress
Cate Blanchett, Elizabeth: The Golden Age
Article continues below advertisement
Julie Christie, Away from Her
Marion Cotillard, La Vie en Rose
Laura Linney, The Savages
Ellen Page, Juno
Best Supporting Actor
Casey Affleck, The Assassination of Jesse James by the Coward Robert Ford
Javier Bardem, No Country for Old Men
Philip Seymour Hoffman, Charlie Wilson's War
Hal Holbrook, Into the Wild
Tom Wilkinson, Michael Clayton
Best Supporting Actress
Cate Blanchett, I'm Not There
Ruby Dee, American Gangster
Saoirse Ronan, Atonement
Amy Ryan, Gone Baby Gone
Tilda Swinton, Michael Clayton
Best Adapted Screenplay
Atonement
Away from Her
The Diving Bell and the Butterfly
No Country for Old Men
There Will Be Blood
Best Original Screenplay
Juno
Lars and the Real Girl
Michael Clayton
Ratatouille
The Savages