NEWS
Oscar Producers and Whoopi Make Up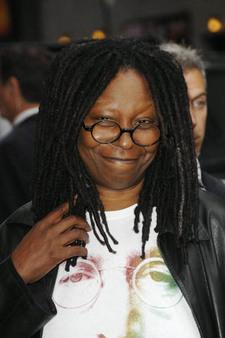 Whoopi Goldberg was in tears after being left out of a montage of past Academy Awards hosts, but now says that she's over it, thanks to an apology from Oscar organizers.
"No harm was intended, and I feel very, very badly that she was left out," Oscar producer Gil Cates was quoted as saying Tuesday. "I'm going to call her and tell her that."
Goldberg said on today's View that Cates did call. "He made an oversight, pure and simple."
Article continues below advertisement
Cates initially explained that the montage was in fact supposed to be a collection of exciting moments from past awards shows. All other past hosts were included except for Whoopi, who hosted the show four times.
Whoopi discussed her disappointment on Monday's episode of The View with her fellow co-hosts, who her rallied around her.