NEWS
Oscar Snubs 2011: Mark Wahlberg, Ryan Gosling Cut by Academy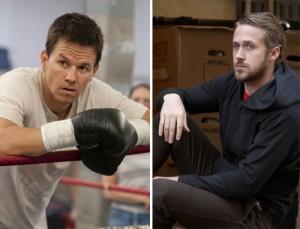 Oscar nominations were released today, and while the Academy was dead on with some of their nods, there were inevitably some snubs. So who got gypped? For starters, two of Hollywood's hunkiest leading men' Mark Wahlberg and Ryan Gosling!
Poor Marky Mark was the only one left out of The Fighter family— which scored nominations for Best Supporting Actor, Christian Bale (who took home the Golden Globe), and two Best Supporting Actress nods for Melissa Leo (also won the GG) and Amy Adams. So Mark's on-screen brother, mom and girlfriend were all nominated, but there was no love for the actor who was nominated at the Golden Globes in the Best supporting actor category.
Article continues below advertisement
Luckily, The Fighter is up Best Picture, giving Mark a nod for producing the boxing film, which is based on a true story.
Over in the Inception dreamworld, Christopher Nolan was certainly snubbed in the Best Director category, given the film was nominated for Best Picture.
It looks like True Grit's Joel and Ethan Coen upstaged Nolan.
His directing prowess was also snubbed when he didn't received a nod for The Dark Knight, the film which earned the late Heath Ledger an Oscar.
Some other surprising snubs — our new favorite hunk Andrew Garfield for his amazing role in The Social Network — which scored Jesse Eisenberg a lead actor nod, Best Picture nom and a slew of others.
Justin Timberlake was also left out of the The Social Network crew.
Article continues below advertisement
Michelle Williams was nominated as lead actress in Blue Valentine but the strong performance delivered by Ryan Gosling was definitely overlooked in our opinion!
And the snubs continue with Michael Douglas, who returned to the big screen as Gordon Gecko in Wall Street: Money Never Sleeps.
Natalie Portman is favored to win the Best Actress Oscar this year, but her Black Swan co-star Mila Kunis wasn't even nominated.
MORE ON:
michelle williams
While Burlesque was not nominated for Best Movie (Musical or Comedy) at the Golden Globes, the flick did not score any points with the Academy in any Oscar movie categories.
Emma Stone wasn't recognized for her role in Easy A and Julianne Moore did not receive the nod for playing Annette Bening's lesbian partner in The Kids Are Alright.
Article continues below advertisement
One thing we aren't surprised about — The Tourist not receiving any love from the Academy (recall Ricky Gervais' jab at the film being nominated for a Golden Globe). That means Angelina Jolie and Johnny Depp are also not in the running for the Florian Henckel von Donnersmarck-directed flick.
OK! NEWS: JAMES FRANCO ON OSCAR NOMINATION — "IT'S A BIG HONOR"
Some pleasant surprises — Hailee Steinfeld scored for her lauded performance opposite Jeff Bridges (also nominated) in True Grit! Also, Winter's Bone made the Best Picture list.
Any we forgot? Share your thoughts in the comment section below!