NEWS
Oscar Winner Jeff Bridges' Wife Susan Geston is the Secret of His Success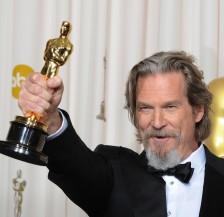 Jeff Bridges paid a heartfelt tribute to his parents on the Oscar podium as he collected his best actor award last night, but after the show he dedicated his first golden statuette to his wife of 32 years, Susan Geston.
When asked by reporters for the key to his success Jeff, 60, replied: "Oh, well, first thing that pops into my mind is my wife, my support, you know. She holds that kite string. Lets me go way out there, and then it's so sweet being reeled back in.
Article continues below advertisement
OK! NEWS: OSCARS 2010: A LOOK BACK AT HOLLYWOOD'S BIGGEST NIGHT
"I love coming home. She pointed out the other day, we've been apart 11 of the last 14 months. So I went, whoo, really far out there. But my wife and my girls, I guess the girls are the tail of the kite, keep me centered like that. My girls, my daughters."
Jeff's Crazy Heart character Bad Blake has a disastrous home life, so are there any similarities between the acting vet and his Academy Award-winning role?
OK! NEWS: OSCARS 2010: THE STARS LIGHT UP THE RED CARPET
"I have been writing music, playing music since I was a kid. Unlike Bad, I have you know, I didn't think he had great parents. Certainly didn't have he had four, probably, great wives that he got rid of, you know.
"But I have a very strong marriage, you know. Bad didn't have that. There's a lot of stuff he didn't have."
Article continues below advertisement
With winning his first Oscar after garnering five nominations since 1972, Jeff is now planning on a new direction: "Well, certainly, the music, that's going to bloom for me. That's something that I've been doing for a long time. And this is going to help me continue that."
However, he's ready for the downsides of his renewed fame: "There's upsides and downsides of things. The downsides, you lose some of your anonymity, and for an actor, that's kind of tough.
OK! HOT GALLERY: GLITZ AND GLAM ON THE OSCAR RED CARPET
"But the upside is, you know, hopefully, this award will help bring peace and understanding and prosperity to our world, you know. I think, because, really, movies are more than just entertainment, they are connecting us, you know.
Do we have to forget about the Dude now? "I'm digging the Dude," said Jeff. "You know, I love him. That's wonderful. You know, the success that he's had. I was a little disappointed, when it first came out, it didn't do much. But now we have Big Lebowski fests and all kinds of things."