NEWS
Ousted Bachelorette Speaks!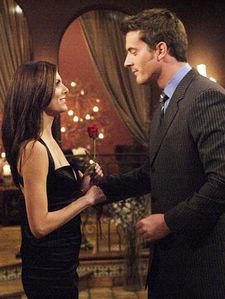 If The Bachelor's Amanda Rantuccio starts "meephing" again, she can certainly blame it on the last rose ceremony, when she was sent packing by Matt Grant, the British hunk in search of his American wife.
"That was the first rose ceremony I went into thinking okay, I have this one," says Amanda, who explains her strange hiccups are brought on by stress. "Him saying that if he was to draw the perfect girl it would be me in every way, all those kind of comments just had me thinking, 'Okay, this is going to work out.'"
Article continues below advertisement
Yeah, that would stress me out too! Amanda doesn't believe her fake parent prank swayed Matt's decision not to choose her. "I think he really actually enjoys pranks," she says, adding the Bachelor producers helped her execute her idea. The prank actually let her see another side of Matt. "He was really buying it and therefore trying to convince the fake parents that this is a real relationship and pretty much defending me in the process."
With the final rose ceremony only a week away, Amanda's still not sure who Matt will ask to be his bride. "The hard part about being on a show is you do not really get to see what he is like on the date with the other girls," she says. "I feel like he would gravitate towards Chelsea more than Shayne. But then watching the show, I do not know. It is confusing me."
Amanda, join the club!
Tune in tonight, Monday, May 5, for The Bachelor: The Women Tell All, at 10 p.m. on ABC.