NEWS
Owen & Kate: Dangerous Love?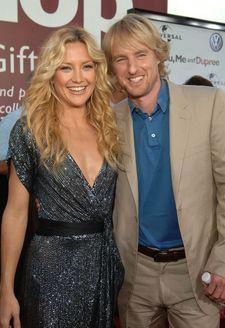 Talk about Miami heat!
On March 1, Owen Wilson and Kate Hudson did their darndest not to be seen together in the South Florida resort town where they both happen to be for work. Owen is in Miami to begin shooting the film Marley and Me with Jennifer Aniston, while Kate flew in to attend the Miami International Film Festival.
But despite their best attempts to keep their rendezvous private, the former flames didn't fool several witnesses who spotted the pair cavorting privately out of the media eye. Could they be contemplating a reconciliation? And if so, why the secrecy?
Article continues below advertisement
One reason could be because their friends disapprove of them getting back together. "Kate fell for Owen so hard that she risked everything and went head first into love with him," a friend of the actress tells OK!. "But even during the year they were together, it was a roller coaster. I hope what's going on now is just temporary.
"They're both busy with movies, and hopefully Kate will have some clarity and decide to just be friends with him," continues the friend. "I'd be very, very worried if they got back together seriously. It is ridiculous for her to think he's all better in eight months."
As OK! revealed exclusively earlier this year, the Wedding Crashers star wrote Kate a letter, apologizing for putting her through so much heartache. "Owen made the first move to reconcile," another friend confirms to OK!. "He'd been relaying her messages through mutual friends for a few months. Kate was hesitant at first, but after seeing how well he's been doing, she felt like she owed it to him to meet up and hear him out. She cares about him, so they are going to slowly start seeing each other again and see how it develops."
For the entire scoop on Owen and Kate's rekindled romance, pick up the latest issue of OK! — on sale everywhere Thursday!