NEWS
Owen Wilson Returns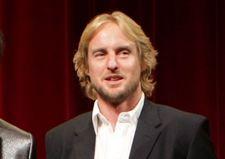 Of all the stars expected to attend last night's L.A. premiere of new film The Darjeeling Limited, star Owen Wilson was certainly not one of them. And yet, there he was — only weeks after his suicide attempt — on stage with the film's director, Wes Anderson, and co-stars, Adrian Brody, Natalie Portman and Jason Schwartzman.
Though Owen skipped the traditional red carpet proceedings at the event, slipping into the Samuel Goldwyn Theatre via a private entrance, he did make a surprise appearance with the film's cast and crew before the screening began. And while Owen didn't say anything, frequent collaborator Anderson, who shared an Oscar-nomination with Wilson for their Royal Tennenbaum's screenplay, did say about his troubled friend, "I've never made a movie without him, and I hope I never have to."
Article continues below advertisement
In the film, Owen plays one of three brothers who set out on a spiritual quest aboard a train through rural India. This marks the fifth time he and college pal Wes Anderson have worked together on a feature film, dating back to their indie hit Bottle Rocket, which also introduced Owen's younger brother, Luke, to film audiences.