NEWS
Own a Piece of Tina Fey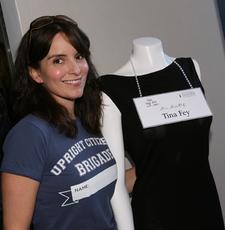 No matter what side of the political fence you sit on, everyone agrees that Tina Fey's impression of Republican VP nominee Sarah Palin is hysterical!
Now fans of the 30 Rock star can join the fun — and help out a good cause at the same time. Little Black Dress Wines, the "Official Wine of Awards Season," is currently hosting their 3rd annual celebrity "little black dress" auction featuring a LBD of Tina herself.
Article continues below advertisement
The former SNL star is in good company. Little Black Dress Wines is also currently auctioning off LBDs of some of Kim Cattrall, Lisa Kudrow, Ana Ortiz, Evangeline Lilly, Angie Harmon, Jaime Pressly and many others to support the Clothes Off Our Back Foundation!
Visit www.clothesoffourback.org to bid through Oct. 20. Now's your chance to dress like a star and support a very worthy cause!