NEWS
Oy Veh...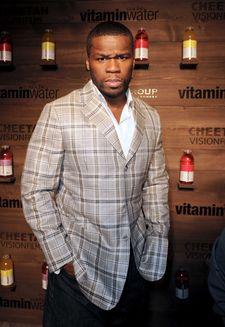 It's nearly 9:30pm and I'm still sitting in the office. I got here prior to 9:30am.
For the last couple of hours I've been writing about the "4th Annual OK! Sundance Soiree at the vitaminwater house." It was ultimately our exclusive on 50 Cent's dinner, party and private concert at a house in Park City. 50 performed for the crowd in the living from from the balcony above. Jim Carrey, Jenny McCarthy and Chris Rock were really the only ones who were allowed upstairs, but that was ok. I was happy to enjoy the private midnight show next to still-free-from-jail Wesley Snipes, Cuba Gooding Jr., Tom Arnold, Kim and Kourtney Kardashian - and Paris Hilton, who as I think I've previously mentioned, spent most her time there in the bathroom.
Article continues below advertisement
After listening to 50 Cent's interview more closely as I transcribed the tape, where he talked about 50 Cent vs. Curtis Jackson (his real name), Britney Spears, sex, Natalie Portman, his new album and film, "Before I Self Destruct" and Cheetah Vision Films, his new production company with partner Randall Emmett (they've already got Nic Cage and Mickey Rourke films in the can), I've gotta say, I'm pleasantly surprised how intelligent, funny and charming he is.
Check out the party exclusive in next week's OK! ;) xo