NEWS
Padma Lakshmi's Hidden Health Scare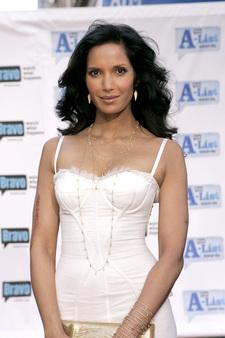 Top Chef host Padma Lakshmi is beautiful, talented and, for the last few years, has been hiding a painful secret--literally.
Three years ago, Padma was diagnosed with endometriosis, a condition that affects the lining of a woman's uterus. Now she is talking to OK! about hiding her severe pain, her five surgeries and how it has affected her life.
"I didn't know I had endometriosis. I was rushed to the hospital for a surgery three years ago," Padma tells OK!. "It affects your hormones and really profoundly affected every part of my life. I didn't know how much it affected my life until I was free from it and healed."
Article continues below advertisement
There were times, she adds, that she "had to cancel jobs as a model because I was just like in pain."
Padma went on of course to become the host of the top rated Bravo reality show Top Chef. But it wasn't without a lot of work--on herself.
"I've had five surgeries," she tells OK!. "Last year I actually had a surgery and on that following Wednesday, I was still a little swollen because they shoot your belly up with saline water so they can see everything. But I did the A-List Awards. I was on TV and on the red carpet like, five days later."
Padma is gearing up to host the first annual Blossom Ball, to benefit the Endometriosis Foundation of America. it's aimed at educating women and their doctors about the taboo subjects regarding the condition.
Speaking of her own battle, Padma tells OK!, "literally, my libido was really down, and that's something that women don't want to talk about. I know I don't want to talk about it, especially because I'm in the public eye and it's my personal life. But now we're hoping to raise media attention. In our mother's generation we didn't have the technology to diagnosis and treat it. But now we certainly do."