NEWS
Pamela Anderson Plans a Pop Music Career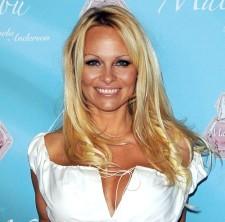 Pamela Anderson is debuting her first pop single of her new career, "High," the New York Post reports. Pam's friend Richie Rich says "High" isn't a song about drugs, but a song about fashion — high fashion.
"We are recording a pop single together," Richie reveals. "Pam says she wants to sing, but nothing too difficult, so she's just going to sing the word 'high' over and over."
Interesting, to say the least!
Article continues below advertisement
Richie and Pam are also launching a new clothing line, A*Muse, which Pam will model during Fashion Week in February.
And Richie isn't the only person supporting Pam. Ex Tommy Lee will be spinning records during the show!