NEWS
'Pan Am' Premiere Clip: 'Mad Men' Comparisons Take Flight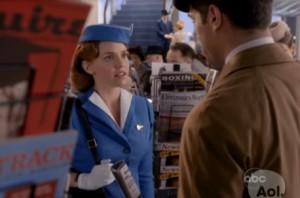 Pan Am premiered last night and the Mad Men comparison have already taken flight. So, did the new ABC show have enough adventure to keep you watching?
The stewardesses are sexy in their blue uniforms and the '60s were alive and well in last night's premiere of Pan Am.
But there was some turbulence along the way— it is set during the Cold War, after all.
Article continues below advertisement
Stewardess Kate (Kelli Garner) starts off the show by accepting a task of switching the visa document of a Russian man during her flight. But it turns out the job was really a test of an MI-6 agent.
A glimpse of the other stewardesses lives are given, but unfortunately not much was revealed about Christina Ricci's character yet.
What did you think of the premiere? Do you think it's trying to be too much like Mad Men?