NEWS
Paramore Talk 'Twilight,' Touring, 2009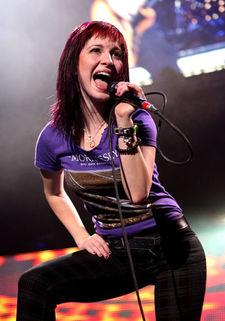 Paramore's Hayley Williams is thrilled to be part of the Twilight sensation. The band's tunes Decode and I Caught Myself are featured on the soundtrack. But she was always a fan of the books.
"I think it's a phenomenon," Hayley, who turns 20 on Saturday, says. "We're just thrilled to be a part of it. Our fans were part of our following before we blew up, and I think it means something to them, too. It's opened a whole new world, and it definitely means a lot for our career. It's changed a lot."
Article continues below advertisement
Team Edward or Team Jacob?
"I feel good about both of them," she says. "On one hand, one is the hero, and on another hand, the other is the hero, but I don't know. I like both of them at different times."
Guitarist Josh Farro admits the band would be thrilled with a spot in the forthcoming sequel New Moon. "We're not campaigning, but we'd love to be part of it," he says.
Hayley can't live without her Sidekick when she's on the road.
"It's awesome," she tells me. "I can keep up with friends and family, and this game on it is called Bunny Chow and you can play anybody who has a Sidekick -- anywhere. It's sort of like Connect Four, but you can tag your roommate or your friend. I tag my roommate all the time, like 'let's play.' We play Connect Four."
What's in store for 2009? For one thing, a new record.
"We're just getting started," she says. "Josh is writing like crazy, with music and stuff, and I'm listening to lyrics and melodies. So far I've been really stoked with everything. It's interesting. We definitely have a lot to talk about. We've been through a lot this year. I can't wait to get it all out and see what we have in us."