NEWS
Parents Television Council Outraged by Pantless, Full-Frontal 'X Factor' Contestant Geo Godley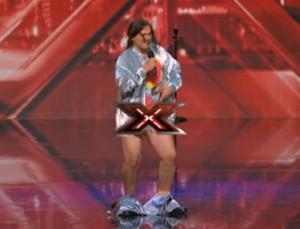 Judge Paula Abdul wasn't the only one who wanted to vomit after Geo Godley's pantless performance on The X Factor this week. The blogger and self-proclaimed classical pianist sent shockwaves through the judges panel, in-house audience and viewers at home with his full-frontal routine, causing Paula to run off set to prevent herself from throwing up. And now, the Parents Television Council is reacting to the inappropriate contestant.
Article continues below advertisement
"That was offensive, disgusting, distasteful, upsetting… get him out of the building, please," judge L.A. Reid said of 43-year-old Geo's performance.
And the PTC couldn't agree more.
"Based upon contemporary community standards for the broadcast medium, the PTC adds to Reid's description the title 'indecent,' " said PTC President Tim Winter in a statement, via E! News. "If Godley performed his act in public, he would have been arrested. But if he performs it in front of a Fox camera, his act is beamed via the public airwaves into every home in the nation."
The statement added: "The prolonged, previously videotaped footage of a contestant dancing nude on the X Factor stage represents a conscious decision by the producers — with the approval of the network's broadcast standards department — to intentionally air this content in front of millions of families during hours when they knew full well that children would be watching."
Article continues below advertisement
And Winter feels that the TV-PG rating for the supposedly "family-friendly" show "is not just inaccurate, it is fraudulent. "We call on the amorphous Content Ratings Review Board to immediately investigate this incident and hold Fox accountable for violating the spirit and the letter of the content ratings system, which can only be described at this point as rigged and blatantly inaccurate."
"While we understand the entertainment hook that comes from the occasional train wreck, something so inherently and patently offensive as this obscene performance is more than a sucker punch; it is a violation of Fox stations' broadcast licenses. We have filed a complaint with the FCC and are urging our members and other concerned citizens to follow suit."
Do you agree with the PTC? Watch the performance and sound off below.