NEWS
Parents Think Threesome on 'Gossip Girl' is Too Hot for TV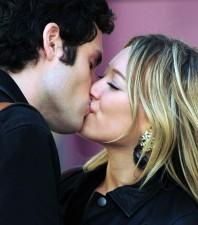 On-air promos for the much talked about threesome on an upcoming episode of Gossip Girl have triggered the Parents Television Council to ask affiliates of the CW network to reconsider the show, according to the Associated Press. The hook-up is being teased in ads as a "3SOME," and is set to air Monday, Nov. 9.
PTC President Tim Winter told the Associated Press that airing the episode is "reckless and irresponsible" and has urged CW affiliate stations not to air the episode.
Article continues below advertisement
"Will you now be complicit in establishing a precedent and expectation that teenagers should engage in behaviors heretofore associated primarily with adult films?" Winter asked in a letter to the affiliates of the CW.
This is not the first racy Gossip Girl campaign to spark the attention of the PTC. In July 2008, the organization spoke out against ads showing the cast members Blake Lively, Leighton Meester, Chase Crawford, Penn Badgely and Ed Westwick in risque and intimate situations — on a couch, in the sack or skinny-dipping- tagged with headlines like "A Nasty Piece of Work" and "Mind-Blowingly Inappropriate."
"CW has been defending graphic content on Gossip Girl by asserting that they don't target teenagers," Winters said Wednesday. "Such a claim doesn't even pass the 'laugh test.'"
CW spokesman Paul McGuire said the target audience for Gossip Girl is 18- to 34-year-old women, with a median viewer age of 27 years old. The network had no comment on PTC's complaint.
So what characters are involved in the infamous threesome? Gossip Girl fans...tune in next week to find out. Xoxo.