NEWS
Paris to Blame for Chris Brown & Rihanna's Fight?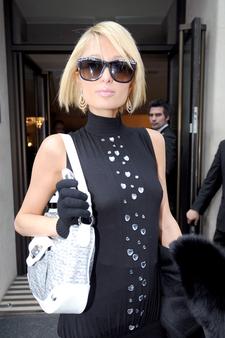 There's never just one side to an argument and the same can be said for the horrific feud that erupted early Sunday morning between Chris Brown and Rihanna. But OK! has learned the details of the evening leading up to the big blowup.
When the couple arrived in L.A. on Feb. 5, they "were in a non-stop argument," a source tells OK!. "He wanted to drive to the Grammys in a sports car; Rihanna wanted a bigger car so she could bring friends. They fought, but she gave in. Chris drove and got lost. They were late for rehearsals and she was infuriated."
Article continues below advertisement
Things got worse the following evening at the Verizon & BlackBerry Storm Grammy party at Boulevard 3, where Chris chatted up Paris Hilton while Rihanna performed.
"He and Paris went outside together," a witness tells OK!. Back inside, they got closer. "Paris was all over him," the partygoer says. "Rihanna caught wind of it and spent the rest of the night glued to him."
By the time they attended the Clive Davis bash on Feb. 7, it was clear there was a problem. Arriving solo, a stern Chris dismissed the press and made his way to the ballroom. Shortly afterwards, Rihanna arrived and forced a smile for photographers before leaving for the red carpet. Suddenly Chris reappeared as if he was going to meet Rihanna but she was gone.
"It was," says the source, "an awkward moment."
The couple managed to hold it together during the gala, but that all changed by the time they left in their rented Lamborghini at 12:20 a.m. According to an insider, Rihanna found an ex-girlfriend's number on Chris's phone and that was the final straw, igniting the fight that ended with the "Umbrella" singer reportedly being taken to Cedars-Sinai Medical Center for examination on Sunday afternoon.