NEWS
Paris & Doug Boycotting The Hills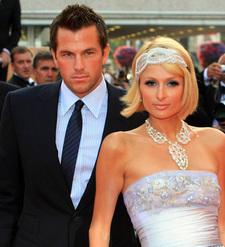 The Hills might still be alive next season, but reality vet Doug Reinhardt, who dated both Lauren Conrad and Stephanie Pratt, will be staying far away with his girlfriend, Paris Hilton.
"That show is like so lame and fake. He doesn't even want to be a part of it," perfume designer Paris dished to OK! of boyfriend Doug during the Fragrance Foundation's Fifi Awards Ceremony on May 27.
So why did Doug ultimately decide against appearing again?
Article continues below advertisement
"I think just because it's fake and they portray him the way he's not and they make up relationships when they're not there," Paris explained to OK!. "He just thinks it's lame."
The glued-at-the-hip couple will be working together on a different reality show, however, as they reveal Doug will be making an appearance or two on her new BFF Dubai show. Which, ostensibly, is so not lame.
Reporting by Laura Lane