NEWS
Paris & Doug: Reunited and It Feels So Good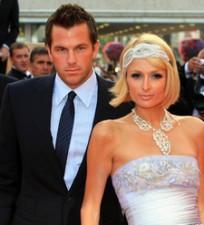 How's this for a romantic reunion: Doug Reinhardt is treating his on-again girlfriend Paris Hilton to a tropical getaway in Fiji, complete with private island, deep-sea diving, Jet Skiing and sky diving, E! reports.
Sources close to Doug tell E! he's trying his best to win back Paris' love.
"He has been so generous and sweet, and has really impressed her with his romantic ways," a source tells E! News.
Article continues below advertisement
That's right up Paris' alley, as a source close to her tells E!, "She loves being treated like a princess...She can feel how deeply in love he is with her, and she's having a blast."
One snag in this romantic reunion -- Nicky Hilton isn't a fan of Doug.
"That bothers her a lot since the sisters are so close," the source says. "But for now, she's having the time of her life."