NEWS
Paris Goes to Harvard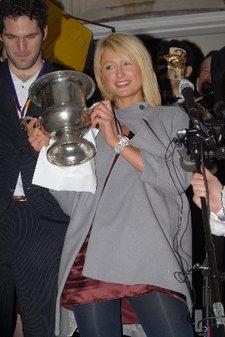 Harvard University loves Paris Hilton. "Harvard is hot!" the 26-year old heiress proclaimed Wednesday as she posed for pictures holding a giant, oversized trophy on the steps of the Lampoon Castle in Cambridge Massachussetts.
Hilton was in town to receive The Harvard Lampoon Humor Magazine's Woman of the Year award, where she gushed about being part of the university's tradition.
"Never in my wildest dreams did I imagine standing here, standing on the steps of the Harvard Lampoon," Hilton said. "It's really exciting and I've had such a great time."
Article continues below advertisement
The Lampoon award is a spoof of the annual honors given by Harvard's Hasty Pudding Theatericals. Paris currently stars in the upcoming film The Hottie and the Nottie, which hits theaters on Friday. Hilton, who arrived an hour late for the festivities, told the crowd of about 100 people that her Simple Life Star, Nicole Richie, was also with her, then added: "Just kidding!"
The Hasty Pudding Theatricals will present its Woman of the Year award to Charlize Theron on Thursday. Man of the Year will go to Christopher Walken on Feb.15.