NEWS
Paris Hilton Says Her Sex Tape "Changed My Life Forever"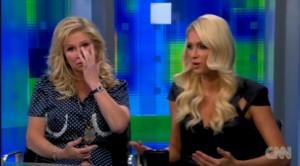 Article continues below advertisement
"I just felt so betrayed, this was not some random guy, this was someone I was with for a few years," Paris said of her ex-boyfriend Rick Solomon, who sold the tape.
"That you loved?" Piers asked.
"I thought I did and I can't believe that he would do something like that to me," Paris said. "It's something that changed my life forever. When I was a little girl, I looked up to people like Princess Diana and these women, and I feel like he took that away from me."
"This is not what I planned," she added. "I did not want to be known as that. Now, when people look at me, they think I'm something I'm not, just because of one incident one night, with someone I was in love with. People assume, 'Oh, she's a s**t,' just because of one thing that happened to me."
Paris' mother was becoming visibly upset the more Paris discussed the tape.
"It's hard because I'll have to live with that for the rest of my life and explain it to my children," Paris explained. "It's something that changed my life forever and I'll never be able to erase it."