NEWS
Paris Hilton Sued for Allegedly Stealing Shoe Design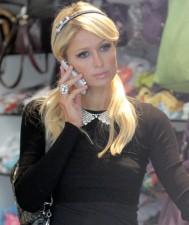 Looks like Paris Hilton stepped into a little bit of trouble with her shoe collection. The heiress is facing an infringement lawsuit for allegedly stealing a design from a Seattle-based shoe company.
According to the court documents obtained by TMZ, Gwyneth Shoes is suing Paris for copying a heart-shaped pad on the insole of their shoes, claiming they developed the idea first.
The shoe company said they filed to patent the heart cushion idea back in 2007, TMZ reports.
Article continues below advertisement
Paris' shoe collection launched in February 2008. She described her line as chic, high quality and affordable.
"Paris Hilton Footwear is perfect for the fashion-forward young woman who wants to look and feel great from head-to-toe, without spending a fortune," Paris said while promoting her line in 2008.
Unfortunately for the heiress, Gwyneth Shoes is suing for trademark and patent infringement.
Under the conditions of the suit, the shoe company wants Paris to give them every pair of the allegedly "infringed" shoes — not hot.