NEWS
Paris Hilton Takes on Backlash in Tokyo Post Court Date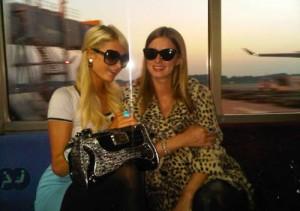 More trouble in Paris Hilton's paradise. While the 29-year-old socialite may have escaped her court date yesterday unscathed after pleading guilty to cocaine possession, she is currently experiencing some backlash on a business trip in Tokyo.
Paris was held for questioning by immigration officials at the Narita International Airport in Tokyo today, after flying in for a business trip the day after her court date for her sentencing in the cocaine case, Reuters reports.
Article continues below advertisement
Japaneses officials asked Paris, who traveled with sister Nicky Hilton according to her Twitter, to stay overnight at an airport hotel for more questioning on Wednesday before allowing her to enter the country.
"Paris Hilton was delayed by immigration authorities at a Japanese airport this evening after arriving for business obligations planned many months earlier," Paris's L.A.-based spokeswoman said in a statement to the press.
OK! NEWS: PARIS HILTON PLEASE GUILTY; AVOIDS JAIL TIME IN COCAINE CASE
"Paris was contractually bound to her business trip and didn't want to let down her brands and many Asian fans. She intended on fulfilling her contract and is trying hard to do the responsible thing, but this is beyond her control," the statement added.
Paris also is reportedly "very disappointed" at the situation.
Article continues below advertisement
Yesterday, Paris appeared at the Clark County Regional Justice Center in Las Vegas, dressed to impress as she charges against her after her Aug. 27 arrest for cocaine possession.
Paris pleaded guilty to misdemeanor drug possession and obstructing an officer and ultimately that decision is keeping her out of jail, for now anyways.
By pleading guilty, Paris was sentenced to pay $2,000 in fines, complete 200 hours of community service, complete an "intensive" substance abuse program and be on probation for one year.
Do you think Paris got off too easy?