NEWS
Paris Spends Thanksgiving in China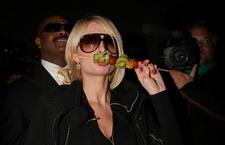 While most of America chowed down on turkey and watched football with their families on Thursdays, Paris Hilton was on the other side of the planet, taking in the sights and sounds of Shanghai, China.
"Shanghai looks like the future," the hotel heiress exclaimed to reporters at a press conference, ironically held at a Hyatt hotel.
The Simple Life star, who recently attended a baby shower for her pal and occasional TV co-star Nicole Richie, toured China in preparation for tonight's MTV Style Awards. While in Shanghai, she's done the requisite clothes shopping, trying on several dresses by hot Chinese designer Lu Kun, but she also stuffed her famous face with local delicacies at various markets around town.
Article continues below advertisement
It's not exactly turkey and cranberries, but when it comes to Paris, what is?