NEWS
Paris' Swedish Meatball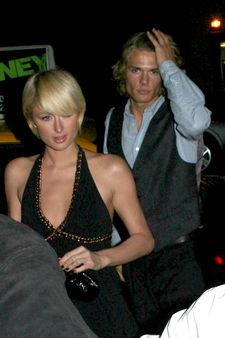 Looks like has a new fall accessory — and instead of some high-end boutique on Robertson Blvd., she might as well have picked this one up at Ikea!
His name is , and despite the aristocratic good looks, the 22-year-old is no Mr. Moneybags. In fact, according to a report in the New York Post's Page Six, Alex was staying at a low-rent Hollywood hostel when he met the Simple Life starlet, who has taken such a shine to the stud that she brought him along with her to the Big Apple, where Ms. Hilton attended the AmFar Rocks charity event at the historic Puck Building.
Article continues below advertisement
And while Paris walked the red carpet alone, OK! spied Alex slinking in minutes later to spend the night by her side in the VIP area. Afterward, the twosome headed to Stanton Social where they enjoyed the tuna tartar roll, crab corn dog and quenched their thirst with Marquis Platinum. They continued onto nightclub Butter before finishing the evening at Runway. The new couple enjoyed the sounds of DJ Chachi, staying at Runway until well after closing time.
"They spent the entire night dancing," one club-going witness reveals to OK!. "When the DJ played Paris' song, she jumped on the banquette and started dancing."
Let's see if this could-be-a-model ends up a keeper for Paris.
By Alisandra Puliti