NEWS
Part One: My Day With the Rolling Stones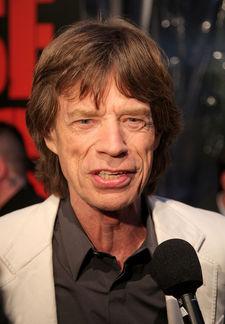 The Rolling Stones greet reporters at NYC's Palace Hotel with a luncheon spread that includes arugula salad, turkey sandwiches, chicken wraps, mozzarella pearls and pineapple carrot cake.
The guys get a standing ovation when they enter the room to chat about their Martin Scorsese-directed concert documentary Shine a Light.
"Good afternoon," Mick Jagger says politely.
What's his secret to boundless energy at the age of 64?
Article continues below advertisement
"No gym, no vitamins," he says. "That should do it. Just get out there."
Does the band plan to retire at 70?
"That's only five years away!" Keith Richards laughs.
Shockingly, I notice Ron Wood making eyes at me while he lets his bandmates answer all questions. What?!
A fellow reporter offers me $5 if I ask a question addressed to "Marty." We quietly chuckle when someone else goes there. The Oscar-winning director says he uses Rolling Stones songs in all his films.
"Shine a Light is the only film that Gimme Shelter is not played in," Martin says. "When I use Gimme Shelter in a film, I don't remember I've used it before. Someone will say, 'You've used that before,' and I say, 'That's all right, let's use it again.' I keep forgetting. The music has been very important to me over these years. The music is in my DNA."
The documentary includes performances with Christina Aguilera, Jack White and Buddy Guy — and features a giddy Hillary Clinton.
Article continues below advertisement
"I like all of the duets very much," Mick says. "I think they really work, because they don't always work, those duets. I think everyone liked all the duets. I think they really come off."
Will the band do any tribute albums?
"I often do tributes to Martha and the Vandellas in front of my mirror," Mick laughs.
How much fun was it shooting this for two days at NYC's Beacon Theatre?
"Careerwise, you see these things as great fun but they're also challenges to do these things that are slightly different from what you do normally," Mick admits. "It was fantastically enjoyable but it was nerve-wracking."
When a reporter from Argentina double-teams questions, Mick gets confused. "I'm lost now. Next time I come to Argentina, we'll go to the bar and talk about it."
What was Martin like as a director?
"He's the best one around," Mick says. "I'm going to embarrass him now. He's not part of the furniture. He's actually sitting here. He's a fantastic director and he assembled a wonderful crew."
Whoops — time's up.
"Thank you very much indeed," Mick says.
Wait, there's more!
Check back tomorrow to find out out about my super-juicy night with the Rolling Stones in .
And pick up the OK! out now to find out how Keith feels about this concert documentary competing with Miley Cyrus's record-breaking concert documentary Hannah Montana/Miley Cyrus: Best of Both Worlds. "Britney Lost 15 Lbs. in Just 4 Weeks" is the cover line.