NEWS
Part Two: J.Lo Shines a Light on Rolling Stones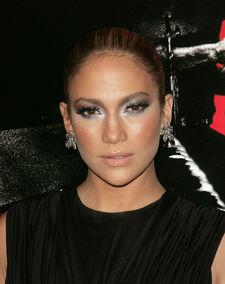 It's sheer pandemonium when the Rolling Stones descend on NYC's Ziegfeld Theatre for the premiere of their concert documentary Shine a Light. Fans sneak in the line to the press line hoping to score face time with their idols — a cameraman attempts to bring his mom! Of course, it's air tight as always and no one is getting through.
Surprise: Jennifer Lopez and Marc Anthony are on their way. Really!
Mick Jagger is very kind, but the publicist goes ape after a financial reporter asks the Rolling Stone how the recession affects him.
Article continues below advertisement
"You invest in different things," Mick says. "You have to watch out and you don't spend too much on drinks. And you only go out twice a week."
The publicist roars, "You know what guys?! We're here talking about the movie. If you want to ask about the recession, don't come."
And there goes my chance to talk to Mick, as she says it's ruined for the group of reporters in which I stand. The woman threatens to kick my well-meaning pal out. Whoa!
There's also high drama when I ask Charlie Watts about whether he supports Hillary Clinton, who appears in the first half-hour of the film. "Yeah, I think so," he says. Bam! "Ask him questions about the movie," she says, cutting him off. "She was in the movie!" I protest.
Luckily, reps cool their heels by the time the other Stones make their way.
Ron Wood, who smells of alcohol, says, "Is there any water or anything?" when he steps up. Voila — a bottle of Poland Spring appears.
Article continues below advertisement
"You've done everything," a reporter begins. "I haven't done everything… you're gorgeous," he says.
Ron tells me the group will never again perform their first single "Come On." "They absolutely refuse to play it. I go, 'Come On,' it's a great song, let's go.' I try to get them to play it but they won't."
What's his favorite thing to do in NYC? "Try and get out on my own. It's impossible."
Although Keith Richards says he'll never retire from touring, he confesses to taking more naps. "Now and again, yes," he says. He cackles when asked the secret to a happy marriage, and says his favorite place in New York is "my bedroom."
Jerry Bruckheimer, , Michelle Yeoh, Tommy Hilfiger and Gina Gershon give love to the Rolling Stones on their way into the venue as stunning Theodora Richards waits for a friend. Stephen Bing — the billionaire who fathered Liz Hurley's son Damian — produced the film, but he's dressed way down in faded jeans and white gym shoes.
The movie starts, but reporters wait because reps say tickets are being saved for J.Lo and Marc. Thirty minutes after the screening begins, the glam couple arrive, smiling and waving regally. How are the twins? "Thank you," she tells me.
Pick up the OK! out now to find out how Keith feels about this concert documentary competing with Miley Cyrus's record-breaking concert documentary Hannah Montana/Miley Cyrus: Best of Both Worlds. "Britney Lost 15 Lbs. in Just 4 Weeks" is the cover line. And, don't miss .
Shine a Light is in theaters now.