NEWS
Patricia Clarkson Gives Tips For Looking Young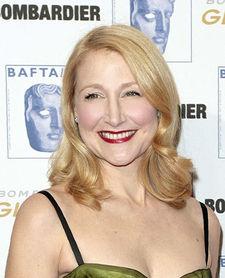 Patricia Clarkson wants everyone to know she's surgery-free.
"Nothing's been pulled here – it's all me," the 49-year-old actress tells me. "As you can see, my face very much moves."
She doesn't leave her skin completely to soap and water, though.
"I use Kiehl's Firming Serum, and then I use Faces By Greta by this woman Greta Rubens. I've used her products for 15 years. It's toner-moisturizer."
Her other policies?
Article continues below advertisement
"I don't eat dairy," Patricia says. "I eat goat. I don't eat cow. I eat goat milk, goat yogurt. And I don't smoke, and I try not to drink too much."
She offers high praise to her Pieces of April costar Katie Holmes and hubby Tom Cruise.
"They're both beautiful and talented, and very kind," Patricia says. "They're very kind people. I'm lucky to know them."