NEWS
Patrick Dempsey Enchants with Disney flick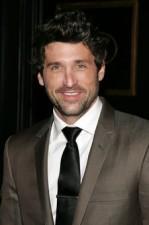 When I meet Patrick Dempsey on the red carpet moments before a special screening of Enchanted held at NYC's Ziegfeld Theater, he greets me with a warm smile.
Donning a green suit, his hair is spiked as high as it will go. His facial hair is scruffy, but his blue eyes sparkle like diamonds. (So that's why they call him McDreamy!)
The father of three, who is married to Jill Fink, plays a lawyer-turned-Prince Charming in the modern-day fairytale. "I really loved the story," he says. "The movie was a perfect fit. I feel honored." Does being a dad up his desire to make kids movies? "Oh certainly," he says. "I like to make movies they're going to see." He admits his 5-year-old daughter Tallulah's favorite Disney character is Princess Giselle.
Article continues below advertisement
Susan Sarandon, who plays the evil queen, isn't able to attend, her longtime beau Tim Robbins says. "She's working," he says. Instead, she sends her daughter Eva (pronounced Ev-uh), who is wearing a cute black winter cap, and son Miles to plug for her. They gamely pose for photos.
Finally, here's the movie's star Amy Adams, who plays Princess Giselle. What was it like working on a Disney flick? "It was great," she says. "It's a lot of fun. It's a fun role to play, and it's nice to get to fulfill my childhood ambition of being a fairytale princess."
Enchanted is in theaters now.