NEWS
Patti LaBelle Says Don't Take Your Clothes Off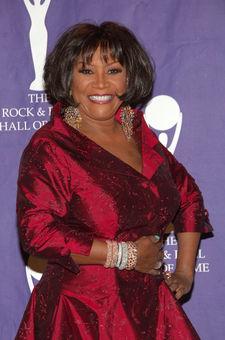 Patti LaBelle has nothing but love for today's singers.
"I love, I love, I love Beyonce," the singer, who turned 64 yesterday, tells me. "I love Fantasia. I love Amy Winehouse. I love Will.i.am. I love everybody. But I really love them."
How does she feel about the term "diva" being thrown around in relation to relative newbies?
"How dare they. They can't call themselves divas. Divas are no longer called divas. They're just called legends or ladies who sing. The ones who have taken that title now? They have to take something. It's OK, but no, they can't take that. It's for those who deserve to be called divas. You don't have to call me anything. Just call me."
Article continues below advertisement
She shouts out 50 Cent's In Da Club, Dr. Dre's California Love, Kanye West's Gold Digger and Michael McDonald's I Keep Forgetting We're Not In Love Anymore as her favorite jams.
"Those are the songs that keep Miss Patti moving," she says.
What advice would she give younger singers?
"I would say to the younger singers who are trying to get to where they need to be, to keep it real, to keep it honest and keep it not so dirty. Now some of the lyrics to 50 Cent's songs – I wasn't listening to the lyrics when I was dancing. I'm not saying all his lyrics are great. There are a lot of young people who are out there doing what they think they have to do. They're singing lyrics that people tell them to sing and dancing with the little hoochie shorts and all that stuff. They're only doing that because they're told that if they do that they'll become famous quicker."
She adds, "I'm telling them if you have a little voice and a little talent, it will keep you going for years and years. I've been doing this for forty-five years, and I haven't taken off anything yet. Hey! And don't intend to."
How does she stay fine at 64?
"I try to go and do three days of spa with facials and massages," she says. "Every time I book a masseuse, I call her ten minutes before and say 'don't come.' So lately I've been taking care of myself with massages and facials and yoga. I'm starting it next week. I am! For the first time. I've never done it before, but I'm going to do it. I'm going to start over. I'm going to start meditating and I'm going to find a peaceful sinner. The gym and I? I have fifteen personalities so I'm finding ways to calm myself."