NEWS
Patti Stanger Gives Summer Love Tips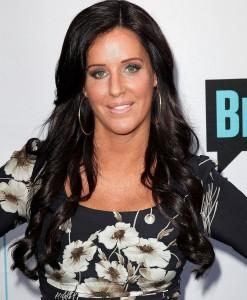 Now that Millionaire Matchmaker is back on the air, Patti Stanger is helping singles find love on TV. But how can singles who are not on TV find love this summer?
"I think you need to get in shape, because when the endorphins are flowing, you feel more sexual," she tells me while promoting Pucker Vodka. "Your libido rises, and then men feel that connection to you. Even if you are 20 pounds and you're a thinny thin thin type of girl it's just going to be – you know the adrenaline is pumping, your blood is fusing and you start to feel very, very aroused. And men feel that. So I think the first thing you need to do is exercise."
Article continues below advertisement
She continues, "The second things is go where the sun is. You don't have to spend a lot of time in the sun - obviously it causes cancer - but a little bit of rays is scientifically proven to lift depression. So if we all got a little bit of glow in our cheeks, and felt the rays of the hot sun we would start to feel better about ourselves so a guy sees that. Men like happy women. When you feel happy that's when he comes close."
When it comes to getting guys at the bar, she recommends that women have flirty cocktails.
How can ladies let guys know they're interested?
"Signal them with the five-second flirt, which is the five-second smile," she explains. "See a guy, smile, then look away. If he's your guy, he's going to come over and buy you a drink."
And if he's not interested?
"He won't buy you a drink. He will talk about other women. He will stare at other women, and he'll walk away after five minutes."
Article continues below advertisement
Under no circumstances should a lady looking for love go all the way in short order.
"A fling means you're going to have sex," she says. "I don't believe in sex until monogamy. If a guy is consistent showing up every week once a week at least, he's interested. He's building his relationship with you. He doesn't want to blow it so to speak."
And why not?
"No sex until monogamy because of oxytocin bonding, which is a chemical in the body that basically says 'I can fall in love with a lantern,'" she says. "It's proven that the younger you are the more oxytocin you have. But there's another thing that happens. Men get arrogant. The switch goes off, like, 'I got her. Who's next? What else is on the menu?' You want to be in control of the game, so the only thing you have is your virtue, and you want to make sure that when you give your virtue, it's with a guy who's in love with you emotionally first. Men do not bond sexually. They bond emotionally. Women bond sexually."