NEWS
Paul McCartney: "I'm A Proud Dad"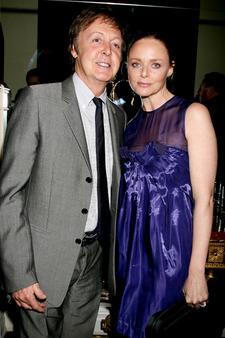 When your dad was in the most famous band in the history of the universe, it must be hard to step out of his shadow.
But somehow Stella McCartney has managed to do that by becoming one of the most successful and respected fashion designers.
And Sir Paul McCartney has told OK! he couldn't be more proud of her.
"She's a very clever girl," the former Beatle said at a party honoring eco-conscious Stella for her environmental leadership.
Article continues below advertisement
"She's very brave, and she has solid principals that she's stuck with against all odds.
"So I respect her for that," he added at the Natural Resources Defense Council 11th annual Forces For Nature benefit in New York, "and I'm a very proud dad tonight."??
And, yes, he admits that having him and his Wings bandmate, Linda McCartney, as parents doesn't hurt her creative streak either.
??"Well, the genes are there," he conceded.
The bash also honored Discovery Communications President & CEO David Zaslav for environmental leadership.
Guests, who included host Alec Baldwin, SNL's Seth Meyers and Top Chef's Padma Lakshmi, drank eco-friendly Lapostolle wine.
By Oliver Coleman