NEWS
Bromance: Paul McCartney Was A 'Fan' Of John Lennon Since Their First Meeting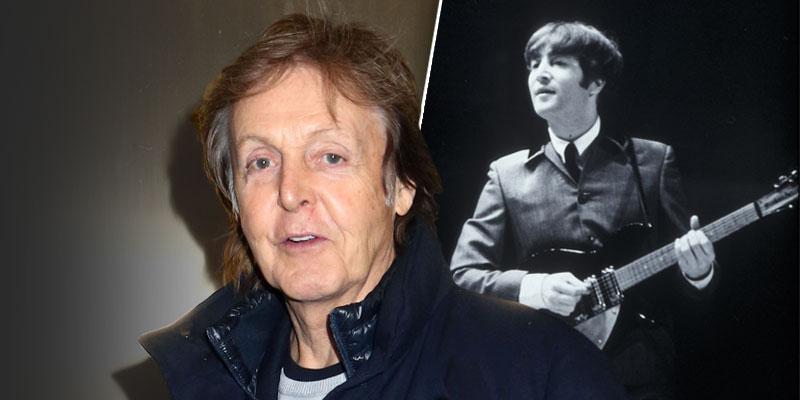 Paul McCartney and John Lennon were quite a duo. Along with George Harrison and Ringo Starr, The Beatles stole millions of hearts worldwide — even McCartney was obsessed with his fellow bandmates.
In the upcoming BBC Radio 2 documentary John Lennon At 80, the acclaimed singer and songwriter, 78, spoke to Sean Ono Lennon, the son of John and Yoko Ono, to mark what would have been Lennon's 80th birthday and admitted that he was "a fan" of Lennon's when they met for the first time.
Article continues below advertisement
KANYE WEST, RIHANNA, AND PAUL MCCARTNEY PERFORM "FOURFIVESECONDS" AT THE 57TH GRAMMY AWARDS!
"I look back on it now like a fan, how lucky was I to meet this strange teddy boy off the bus, who played music like I did and we get together and boy, we complemented each other!" said McCartney.
The bassist, who co-wrote and sang numerous Beatles tracks with Lennon, also confessed that some of their songs "weren't very good." McCartney added: "Eventually, we started to write slightly better songs and then enjoyed the process of learning together so much that it really took off."
GERALDO RIVERA RECALLS THE NIGHT HIS FRIEND JOHN LENNON WAS MURDERED
McCartney also talked about how Lennon sometimes struggled with self-esteem. "Wait a minute, there's this guy 'John Lennon,' who's like a genius, clever, witty, confident and everything. Why would he have insecurities? Because we're all fragile beings," he explained.
The Beatles are regarded as one of the most influential acts of the rock era — and even inspired Sean's godfather, Sir Elton John, who performed with Lennon at Madison Square Garden (Lennon's last live gig).
ELTON JOHN CELEBRATES 30 YEARS OF SOBRIETY, FEELS HE'S A "BLESSED" MAN
Lennon was murdered at the age of 40 by an obsessed fan named Mark Chapman, who shot him outside his New York apartment on December 8, 1940. The two-part documentary, which features stories about The Beatles and marks what would have been Lennon's 80th birthday (October 9), will be broadcast on Saturday, October 3, and Sunday, October 4.