NEWS
Paul McDonald Would "Love" to Be on 'Breaking Dawn' Soundtrack; Working With Peter Facinelli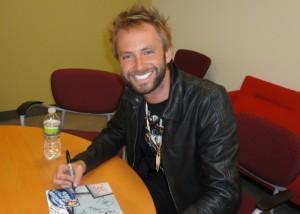 Paul McDonald stopped by the OK! NYC offices this week to talk about his American Idol experience and where his career is headed. We had to ask about Nikki Reed, and the Nashville stud didn't have enough good things to say about his new leading lady. He also admitted he has never read Twilight or seen the movies (blasphemous, we know), but that's all about to change.
"I have not read any of the books or watched any of the movies," Paul revealed to OK! of the hit franchise, in which his girlfriend stars. "But I guess I am a Twilight fan because I'm dating Nikki. I told her I'd watch whenever she wants me to watch them."
Article continues below advertisement
OK! NEWS: PAUL MCDONALD'S APOLOGY TO NIKKI REED IGNITED THEIR ROMANCE
How about bringing his raspy vocals and tender tone to the Breaking Dawn soundtrack?
"I would love that," he said excitedly.
Now that he has the Nikki connection, does he have an "in"?
"Maybe so," Paul shared. "A bunch of killer bands take part. I'm a fan of a bunch of up-and-coming new bands. I remember Band of Skulls got on the last one. It's a cool thing to kind of get out younger bands."
Band of Skulls was featured on the New Moon soundtrack along with Radiohead and Muse.
"Any kind of opportunity like that would be great," he added.
Nikki's co-star Peter Facinelli endorsed Paul on Twitter, urging his 1.8 million followers to vote for the Nashville crooner.
And Paul was flattered.
"I have not met him, but Peter's a cool dude," he told OK!. "He's excited about some stuff we might be doing."
Article continues below advertisement
So what are they collaborating on? Peter's new project Loosies — an independent film he wrote, produced and stars in.
The Nurse Jackie star has enlisted Paul to do the soundtrack for the film!
"I'm super pumped about working with @peterfacinelli on his new movie 'Loosies' " Paul Tweeted.
"I was telling Nikki I was looking for music for my movie," Peter told MTV News, "and she said, 'You should look though Paul's stuff.' She was a big fan of his, I heard, and I thought it really worked for my movie, so I played some tracks over it, where we had temp tracks, and it just all worked. So I reached out to Paul, I sent him the movie, and he enjoyed it a lot, and he said he wanted to be a part of it, so I was stoked."
Peter's film is centered on a pickpocket in New York who's "caught up in a fast-paced, hustlin' lifestyle, until he is confronted by a woman with whom he had a one-night stand, who is now pregnant."
Are you pumped to hear Paul on the soundtrack? Share your thoughts in the comments.