NEWS
Paula Abdul Comes Clean About Getting Clean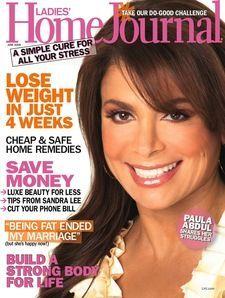 In a surprisingly candid interview, American Idol judge Paula Abdul talks openly to Ladies Home Journal about her stuggle to overcome her dependence on painkillers.
Determined to face her demons, Paula reveals that she checked into La Costa Resort and Spa in Carlsbad, Calif., last Thanksgiving to kick her pain pill habit to the curb. And she learned that going cold turkey was no treat.
"I could have killed myself… Withdrawal – it's the worst thing," Paula confesses. "I was freezing cold, then sweating hot, then chattering and in so much pain, it was excruciating. But at my very core, I did not like existing the way I had been."
Article continues below advertisement
The dancer-turned-pop-singer-turned-reality-star also discusses how she got to the point where she realized things needed to change. It all began during her days as a pop star, when performing, rehearsing, recording and touring started to take its toll on her physically. "I couldn't cancel my tour. I didn't want anyone to count me out," she confesses, revealing that she was only able to endure with regular shots of lidocaine. "I tried to keep everything hush-hush."
In 2005, Paula says she was diagnosed with a chronic pain condition called reflex sympathetic dystrophy syndrome, which resulted in disabling pain, teeth-chattering and shingles-like lesions. To combat the effects, Paula began taking the occasional muscle relaxer and wore a patch that delivered a pain medication about 80 times more potent than morphine. In the interview, she says the pain still frequently left her sleep deprived. It's this mixture of medication and insomnia that she blames on some of her more bizarre on-air Idol moments.
For the entire interview, pick up the new issue of Ladies Home Journal — on sale May 12.