NEWS
Paula Abdul: Haunted?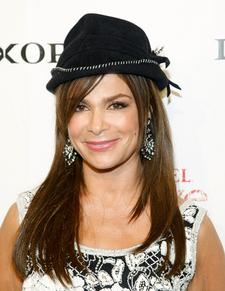 After the tragedy last week when a fan of Paula Abdul apparently committed suicide in her car outside the American Idol judge's house, there are some spooky rumors floating around.
A story in the New York Post's Page Six claims that the fan's death has left Paula "freaked out," quoting a source who says the star hired a healer to cleanse the house of ghosts. According the "friend," Paula won't go back into her house.
Article continues below advertisement
"Paula Goodspeed was a deranged stalker who sent her death threats. Paula instructed guards to keep Goodspeed away from her at all costs," the source tells the paper. "She refuses to stay at home because she fears that the spirit of Goodspeed is haunting her house. She feels like this is the absolute worst omen, a really bad curse . . . Paula is suffering. It is well known that she is emotionally fragile."
So is Paula really seeing dead people? Not quite, according to her rep, who says, "There's no validity to this. She's been home since the incident happened. There's no issue with spirits. Paula is shocked and saddened by what transpired. Her heart and prayers go out to the Goodspeed family."