NEWS
Paula Abdul to Perform at Super Bowl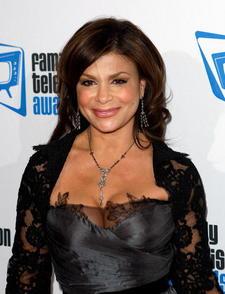 Kooky American Idol judge Paula Abdul is getting her own Idol moment at the upcoming Super Bowl XLII in Arizona.
The singer and dancer's performance of her new single, "Dance Like There Is No Tomorrow," during the Feb. 3 broadcast, which pits the underdog Eli Manning and his New York Giants against model-loving Tom Brady and the unbeaten New England Patriots.
And it will truly be an AI affair for Paula, who will have both Randy Jackson, who produced the song and will perform with her, and Ryan Seacrest, who is hosting the pre-game show. OK! spoke to Ryan, who said he has no doubt Paula and Randy will be able to live up to their own Idol judging standards.
Article continues below advertisement
"I know that they've been working very, very hard on it," Ryan explains to OK!. "Randy's been talking about this for a long time. We would travel on the American Idol audition tour and they would talk about doing a record together and it's finally come to fruition and I know that she was over at Fox rehearsing."
However, Ryan also tells OK! that he hasn't seen them rehearse for the live show yet. "I want to be surprised," he explains. "I've played the record, but I've not seen any of the choreography. I'm going to experience it for the first time with everybody else; therefore, I'll have a genuine reaction on live TV."
Also slated to perform are Alicia Keys, American Idol's reigning champ — and Arizona native — Jordin Sparks, legendary rocker Tom Petty and a special duet between Willie Nelson and Sarah Evans.
Super Bowl XLII airs Sunday, Feb. 3 at 6:30 p.m. on FOX