NEWS
Paula Calls Simon "Uncontrollable"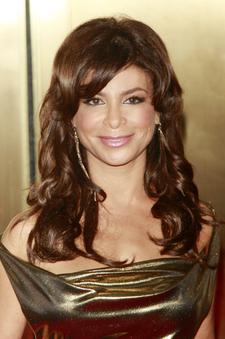 Paula Abdul continued her tirade on Simon Cowell promotional tour for her new lifestyle line, Forever Your Girl, on Wednesday with an appearance on The Martha Stewart Show.
"He's the brother I inherited without asking for one," Abdul said of her American Idol co-host. "He's like the member of the family you can't get rid of!"
While making chocolate thumbprint cookies with Martha, Abdul chatted about the upcoming season of Idol and her recent explosive remarks to Barbara Walters regarding  her relationship with Cowell. When asked if she feels she overstepped a boundary, the former Laker Girl said, "Simon doesn't hold back on anything," adding that luckily for her, she doesn't think he knows what she said anyway. "He's still in London, thank God!"
Article continues below advertisement
As for Idol's new season, Abdul says, "It's completely different than last season. Last season, to me, everyone was very finished and finessed and seasoned. This season is more raw, but really great talent."
Does she ever think the competition gets too crazy?
"It's a tough battle for me," she admits. "Everyone knows that that is my soft spot because I am a performer and to hit that center spot and to create magic for a minute and thirty seconds is very difficult."
Abdul adds, "I get very upset because I don't want to destroy a young talent before it emerges. And so much young talent, I think, is destroyed on American Idol."