NEWS
Paula Says Kara is a Mess!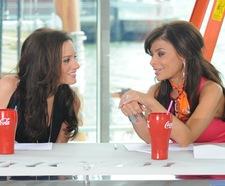 Paula Abdul is dishing the dirt on her old housematem and fellow American Idol judge, telling reporters at a press conference today that Kara DioGuardi was somewhat of a messy roommate!
"I'd see food ground into my white carpet," Paula joked at the TV critics event of Kara's on and off stay with her. Kara, who sat beside Paula at the event, explained she likes to cook.
"Kara and I have a ten-year friendship," Paula added."I moved her into my home in Los Angeles. She was the best roommate I ever had."
Article continues below advertisement
So what's the gossip about Paula?
The newest Idol judge says Paula had lots of luxurious lotions and perfumes: "I think I got a rash, " Kara joked.
"We have a great history and it bothers Simon (Cowell)," Paula teased about their combining of forces.
Kara added that on Idol this season, "at times, there is this dynamic of girl power. We have a heart for these kids."
Tune in to see what the two female judges' chemistry is like tonight on the premiere of American Idol on FOX.