NEWS
Pauly D on 'Jersey Shore' Cast Mate Angelina: "The Girl is Crazy"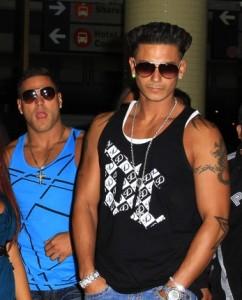 After she left the first season of Jersey Shore early to be with her now ex-boyfriend, Angelina Parvarnick is having a hard time getting back in with the cast members.
And, Pauly D didn't hold back when reacting to Angelina's proclamation of love for him when speaking with OK! on Saturday.
"The girl is crazy. I wasn't expecting that at all. That's the last thing I was expecting," Pauly D told OK! after Angelina had told him that she loved him.
Article continues below advertisement
"Not at all. I don't love her at all," he gushed to OK!
'JERSEY SHORE' CAST HOPS COAST AND HEADS WEST
Regardless of Angelina, Pauly D is still loving his stint on the MTV reality show with Snooki, J Woww, and Mike "The Situation."
"It's crazy. I'm actually having the time of my life. I love living with these guys. I love being back at seaside right now and just living my life on film. I love it!"
Reporting By Carole Glines