NEWS
Pauly D Signs with 50 Cent's Record Label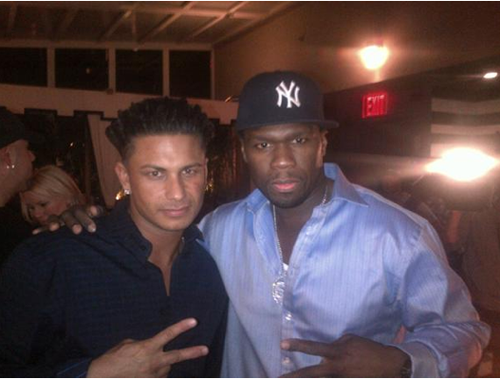 Pauly D has officially joined G-Unit — well, G-Note at least.
The Jersey Shore star recently signed a recording contract with 50 Cent's G-Note label, as both stars confirmed on Twitter, posting a picture of themselves together.
While Fiddy maintained a relatively cool demeanor, Pauly Tweeted the good news with visible excitement: "Big Things in the Works @50cent and @DJPaulyD !!!!! #yeahhhhhbuddy"
This union isn't quite as big a shock as some might think. Pauly, who opened for Britney Spears' "Femme Fatale" tour alongside Nicki Minaj, has more than hinted at the collaboration in the past.
Article continues below advertisement
He told Billboard.com in August, "I'm working with 50 Cent now. I'm gonna do an album with him."
"It's going to be a little of everything," the GTL-aficionado continued. "It's almost like DJ Khaled and kind of David Guetta but my own DJ Pauly D style."
Pauly also discussed the pairing in an interview with XXL, where the reality star explained its origins.
"50 cent has also been somebody I look up to. We ended up linking and we just clicked" Pauly said. "We hit it off immediately with the music and everything like that. So, I'm definitely gonna be working with him."
It's been a big year for Pauly! The DJ has his own Shore spin-off premiering soon which will feature his reunion with Brit at the closing conert of her tour on Dec. 10.
Maybe Fiddy will follow in the pop princess' footsteps and allow the cameras to roll as the rag-tag team work on Pauly's album. One can only hope!