NEWS
Penelope Cruz, Javier Bardem Step Out For 'Vicky'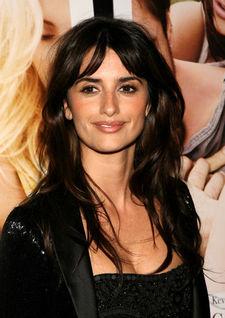 Penelope Cruz glitzes into the special screening of Vicky Cristina Barcelona held at Cinema 2 in NYC. The 34-year-old stunner is glamorous at every turn, and speaks with a thick accent. She appears in the Woody Allen dramedy about three women – Penelope, Scarlett Johansson and Rebecca Hall – who fall in love with the same man during a vacation in Spain.
"She's somebody who is very unstable," Penelope says of her character. "She's damaged. She wants to create something."
Article continues below advertisement
What does she draw on from her own life when playing such a complicated role?
"You go through verses when you are preparing for your character and during interviews people ask you how you prepared for your character," she says. "For me, I have my own system and it works every time in every movie. I think you always feel a little bit pretentious when you hear that question."
She gets flustered when asked if she's complicated.  
Javier Bardem returns to the familiar by acting with Penelope.  "Everybody changes I guess. I haven't acted with her in fifteen years!"
Patricia Clarkson calls Woody "a tremendous talent."
Here is designer Tara Subkoff to dish on the recent kiss between Danity Kane's Aubrey O'Day and Lydia Hearst caught on vid.
She tells me it will appear in an ad for her Bebe line, Tara Subkoff for Bebe, which will be in stores September 1. She says the clothes range from "sexy" to "forgiving" and are perfect for everyone from high schoolers to grandmothers.
Article continues below advertisement
Tara says Aubrey is not part of the campaign – just Lydia.
"I think they did that to get more paparazzi. I wanted to get the point of view of their point of view."
Why is Lyd perfect for the line?
"She really looks like the Marlena Dietrich of her time. She's gorgeous, she's iconic."
And, what does she think of Aubrey?
"No comment, I don't know her but I'm interested to find out."
The lights dim as Carla Gugino, Zoe Kravitz, Geogina Chapman and Harvey Weinstein and stylist Phillip Bloch enter the theater. On with the show!
Vicky Cristina Barcelona is in theaters Friday.