NEWS
Penelope Cruz Won't Go Blonde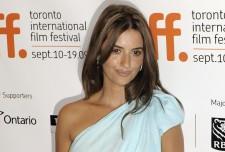 While it may be the trend in Hollywood to change hair color every other day, Oscar-winning beauty Penelope Cruz won't be lightening her famous locks anytime soon.
"I did it once when I was 19, and I lost half of my hair," she says during the Toronto International Film Festival premiere of her dramatic thriller Broken Embraces, in which she dons a platinum wig.
If hair color changes aren't in the works, what more does she hope to accomplish?
Article continues below advertisement
"There's always so much," the Oscar-winning actress, 35, admits. "There are always so many things to do. In terms of the work, it always seems like it's a first date. I mean, every time I go to the movie set and start a project, I feel the same feeling – the butterflies in the stomach, not having control over it – because acting is like that. That's the beauty of it. You can always keep learning. There's always more."
Playing a struggling actress in Broken Embraces helped Penelope remember her own lucky breaks.
"I've been very fortunate to be able to make a living out of acting since I was 17," she says. "Very, very fortunate, and I'm aware of it. But actually the scene that I shot in Broken Embraces where she does the audition was the most emotional scene for me, of the whole movie. Of course, I wasn't supposed to cry in that scene, so I had to cry between takes. It's a strong thing, because we all have gone through it. You start your career, and especially if you are young and you feel like you depend on other people's trust. It's interesting what happens with that."
Article continues below advertisement
What would have happened if she never met Pedro Almodovar, who made Penelope his muse beginning with 1997's Live Flesh?
"I don't know," she says. "I'm very fortunate. Not only in my career, but in my life. Pedro's one of my closest friends. He gave me amazing opportunities. He was a struggling immigrant."
What is Penelope really like behind the glitz and glam?
"She's got this gift from heaven because really she's a star – something you can't learn at school," costar Lluis Homar tells me. "At the same time, she's incredible, but is very easy to work with. Very easy to work with, very calm, she's so close, she's so down-to-earth. It gives you tranquility, and that's nice."
Broken Embraces opens nationwide November 20. And, pick up the OK! on newsstands now for more coverage of the Toronto International Film Festival. The cover line is Twilight/Wedding of the Year.