NEWS
Penn Weaves His Magic Online!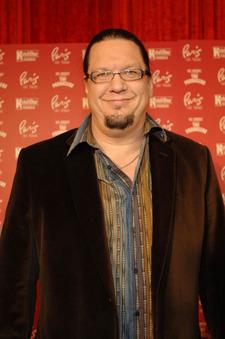 Penn Jillette has been a show biz mainstay for the past 35 years with his Vegas show partner, the always mum Teller. In addition to their Vegas spectacle, Penn has embarked on a slew of TV shows (Sabrina, the Teenage Witch and his Showtime series Bullsh**), radio and even movies. Now, Penn is ready to give the Internet a try on crackle.com where he'll be doing webisodes about topics ranging from celebrities, politics and, on occasion, even his own life. Penn spoke to OK! from sparkly Las Vegas!
Article continues below advertisement
How did you get involved with Crackle?
Well Sony came to me and they were fans of my radio show on free fm and Bullsh** and they wanted me to come up with something with that kind of feeling. In terms of the creating that doesn't really happen at a studio. You have to to get it right for that time. I want it all to be done in one take and that's just from the artistic stance. They gave me a ton of cameras and I carry them around and whenever I wanted to comment on something I can.
How is this different than your other endeavors?
When you make a movie it's all about editing. When wee made The Aristocrats we had 130 hours of unique footage we cut down to an hour and a half. When you do it live it's all about rehearsal. When you do a show that's your own it's all about writing. It's much more about the emotion and the heart, you don't have the reaction. And you don't have the preparation so it's very different. It's honest and immediate.
Article continues below advertisement
How many episodes a week will they be?
We went live at 1 p.m. on Jan. 9 and they went up with seven videos. And I'll be doing about four a week or whatever I feel like doing. It's interesting to have the combination of being completely alone and yet knowing you're talking to a large bumber of people. It's a conversation.
Is there anything you can't talk about on the show?
Fortunately I've done Bullsh** for six years. And I think Trey Parker and Matt Stone and I could open a law firm because we've seen a lot of what is allowed. I've learned who's going to sue you and for what. Sony is willing to take my word. Of course, I have to be responsible about that. I want them to blur and pixilate and take stuff out. So if something is on the fence, I told them to take it out. It's a very odd thing to tell people, but actually allows them more freedom.
Do your kids understand what you do for a living?
Moxie and Z get excited when they see me on TV, but remember that's not a big deal anymore. But now they see themselves on TV with ipods and everything. They get excited when they see big billboards of me. But I think they're too young to realize that my job is more than just talking to them. I've done my voice in cartoons which they go crazy over.
By Jocelyn Vena